If you visit Krakow, one of the basic places you should see is Auschwitz-Birkenau Memorial And Museum – Former German Nazi Concentration And Extermination Camp.
Auschwitz is a name that resonates with people all over the world. It is a place that symbolizes the atrocities of the Holocaust and the unimaginable suffering of millions of people. Visiting Auschwitz is not only an important and meaningful experience for many but also a responsibility to preserve the memory of the victims and educate future generations.
A brief history of Auschwitz
Auschwitz was established in 1940 by the German Nazi regime in occupied Poland. Originally, it was intended as a concentration camp for political prisoners, but it quickly became a place of mass murder and genocide.
The Role of Auschwitz during World War II
During World War II, Auschwitz became the largest and most notorious concentration camp in the Nazi system. Over 1.1 million people were murdered there, the vast majority of whom were Jewish. Others included Roma, Soviet prisoners of war, homosexuals, and people with disabilities.
Liberation and the Aftermath
Auschwitz was liberated by Soviet forces in January 1945. The world was shocked by the scale of the atrocities that had taken place there. Survivors were left to pick up the pieces of their shattered lives, and the world struggled to come to terms with the horror of what had happened.
Importance of visiting Auschwitz Museum
Preserving the memory of the victims
Visiting Auschwitz-Birkenau Museum is an essential way to preserve the memory of the victims of the Holocaust. It is a way to honor their lives and ensure their stories are not forgotten. By bearing witness to the horrors of Auschwitz, we can keep the memory of the victims alive and ensure that their suffering is never forgotten.
Educating future generations
Visiting Auschwitz is also a crucial way to educate future generations about the Holocaust. It is a way to ensure that the lessons of the past are not lost and that we continue to work towards a better future. By learning about the atrocities committed at Auschwitz, we can better understand the dangers of hate and prejudice and work towards a more just and compassionate world.
Honoring the survivors
Finally, visiting Auschwitz is a way to honor the survivors of the Holocaust. It is a way to acknowledge their strength and resilience in the face of unimaginable horror. By visiting Auschwitz, we can pay tribute to the survivors and show our gratitude for their courage and perseverance.
Preparing for the Tour
Booking the Tour
When booking a tour of Auschwitz, it is important to choose a reputable tour operator to ensure a safe and meaningful experience. There are several types of tours available, including group tours, private tours, and self-guided tours. While group tours are cost-effective and offer the opportunity to meet other travelers, private tours provide a more personalized experience tailored to your interests. Self-guided tours are ideal for those who prefer to explore at their own pace.
To choose a reputable tour operator, research companies that have been in business for a long time and have a good reputation. Check online reviews and ask for recommendations from friends or family members who have visited Auschwitz before.
If you opt for a private tour, discuss your specific interests and needs with your tour guide to ensure a customized experience.
You can now book the Auschwitz Tour from Krakow with our trusted partner Krakow Direct – a company that offers the best quality services in Krakow's travel market. The 2021 Travellers Choice award, with almost 4000 positive reviews on Trip Advisor.
Packing Essentials for the Tour
When packing for a tour of Auschwitz, dress appropriately and bring the right gear. Comfortable shoes are a must as you will be doing a lot of walking and standing. Layers are also recommended as the weather can be unpredictable, and temperatures can vary throughout the day.
In addition to clothing and footwear, bring essentials such as sunscreen, a hat, sunglasses, and a water bottle. You may also want to bring a small backpack or tote bag to carry your belongings.
Pack light and only bring what you need. Leave valuables and unnecessary items at home, as you will be carrying your belongings with you throughout the day.
Mental Preparation for the Tour
Visiting Auschwitz can be an emotionally challenging experience. It is important to mentally prepare yourself for the tour and have coping strategies in place to deal with difficult emotions.
Before the tour, take some time to reflect on your reasons for visiting and what you hope to gain from the experience. This can help you stay focused and grounded throughout the tour. During the tour, take breaks as needed and practice self-care. This may include taking deep breaths, finding a quiet place to reflect, or talking to your tour guide or fellow travelers about your feelings.
After the tour, give yourself time to process your emotions and reflect on your experience. This may involve journaling, talking to a friend or therapist, or engaging in self-care activities such as exercise or meditation.
In conclusion, preparing for a tour of Auschwitz requires careful planning and mental preparation. By choosing a reputable tour operator and guide, packing appropriately, and taking care of your mental and emotional well-being, you can have a meaningful and impactful experience at this historic site.
Arrival at Auschwitz
New Visitor Services Center at the Auschwitz Memorial on Map
Location and directions
IMPORTANT: From 15 June 2023, the new address of the parking lot and entrance to the Auschwitz-Birkenau Museum: 55 Więźniów Oświęcimia Street, Oświęcim.
Auschwitz is located in the town of Oświęcim in southern Poland. The easiest way to get there is by taking a train from Krakow, which is about 70 km away. The journey takes around 1 hour and 30 minutes. Alternatively, there are buses available from Krakow, but the journey time is longer and less comfortable.
Directions to the museum
Once you arrive in Oświęcim, the museum is located about 5 km from the train station. You can take a taxi or a bus to get there. If you prefer to walk, it will take approximately 30 minutes.
Parking and transportation option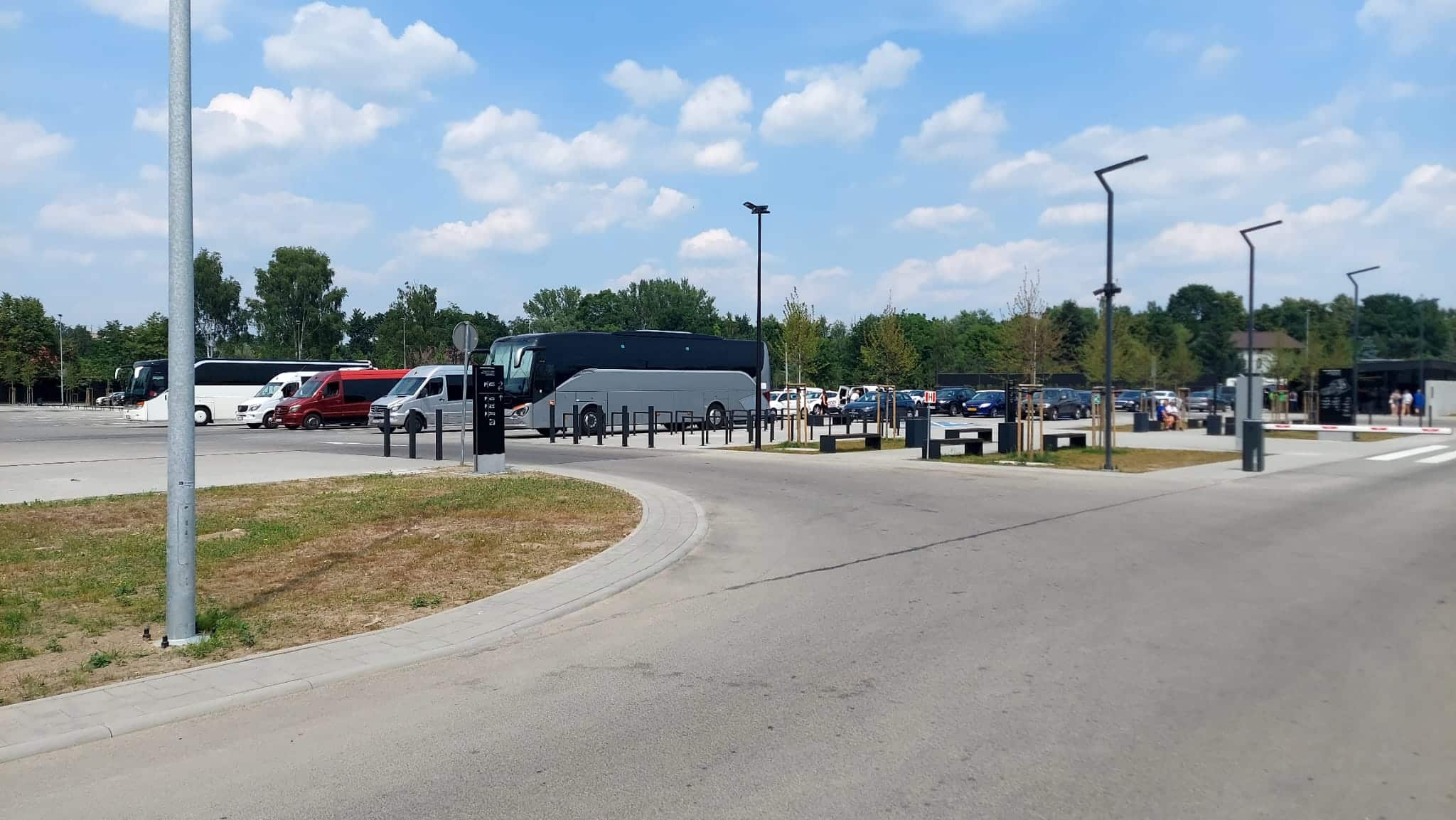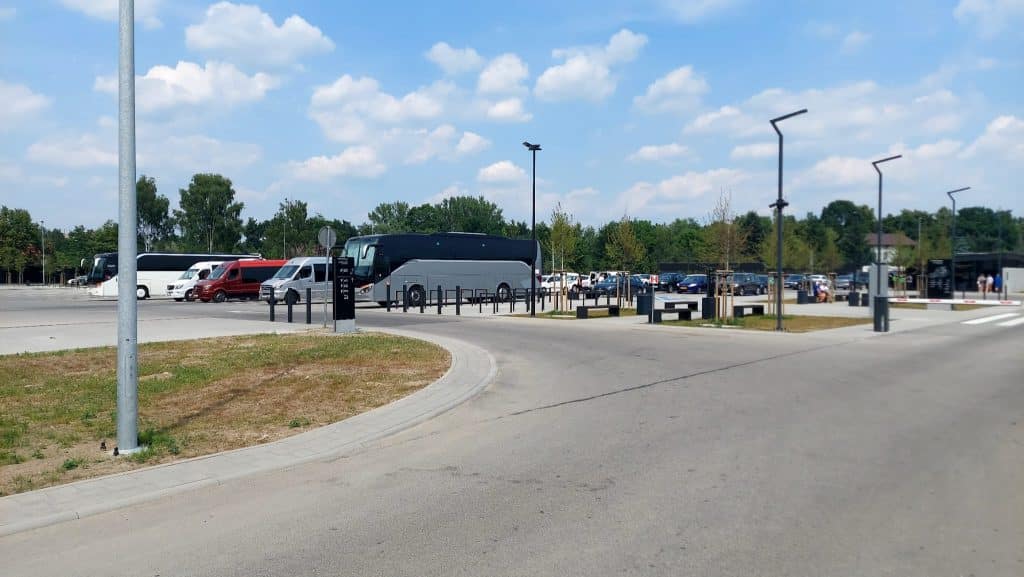 There is a large parking lot available for visitors who arrive by car. The parking fee is 15 PLN (approximately $4) per day. There are also shuttle buses available from the parking lot to the museum entrance for those who prefer not to walk.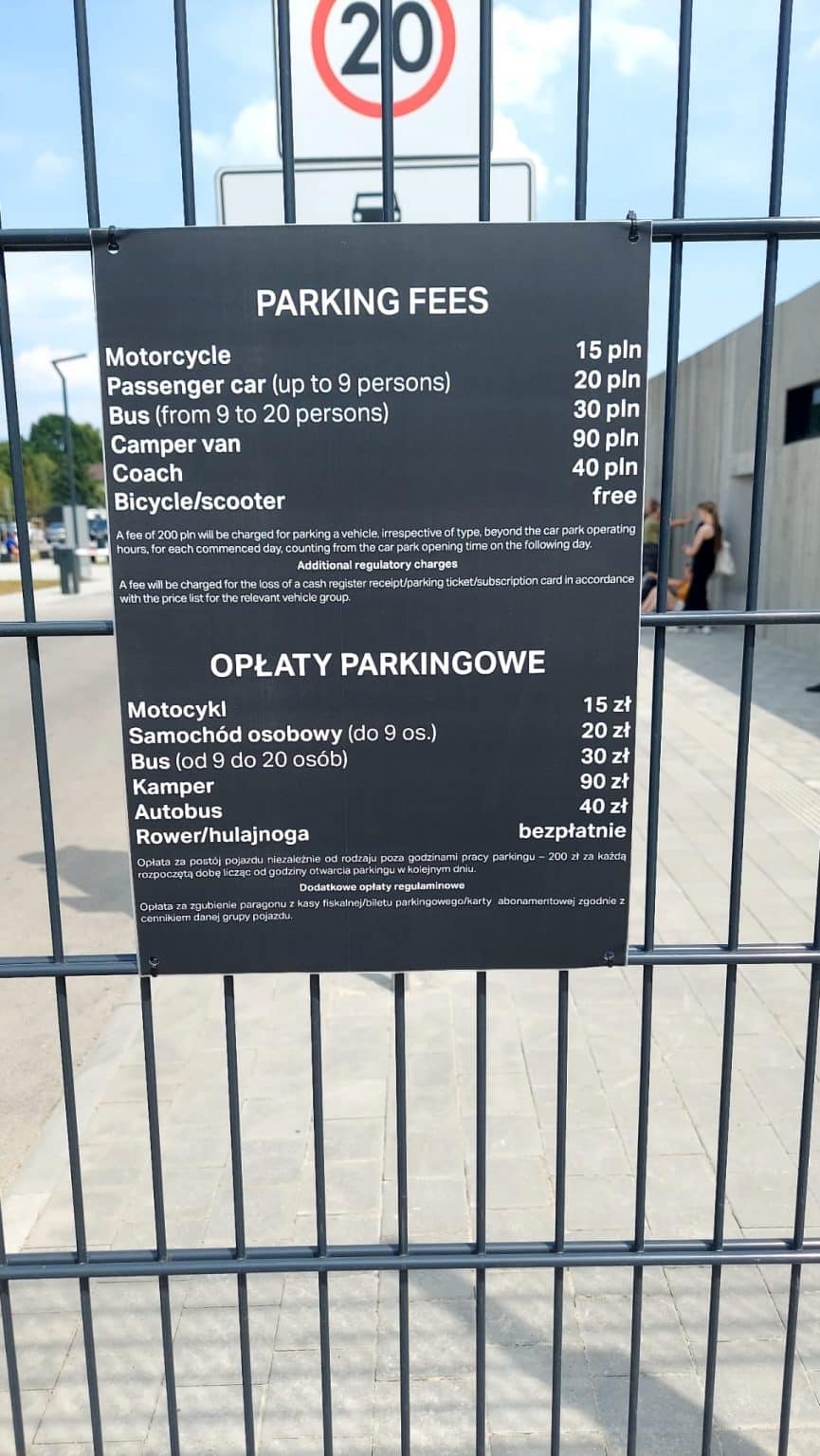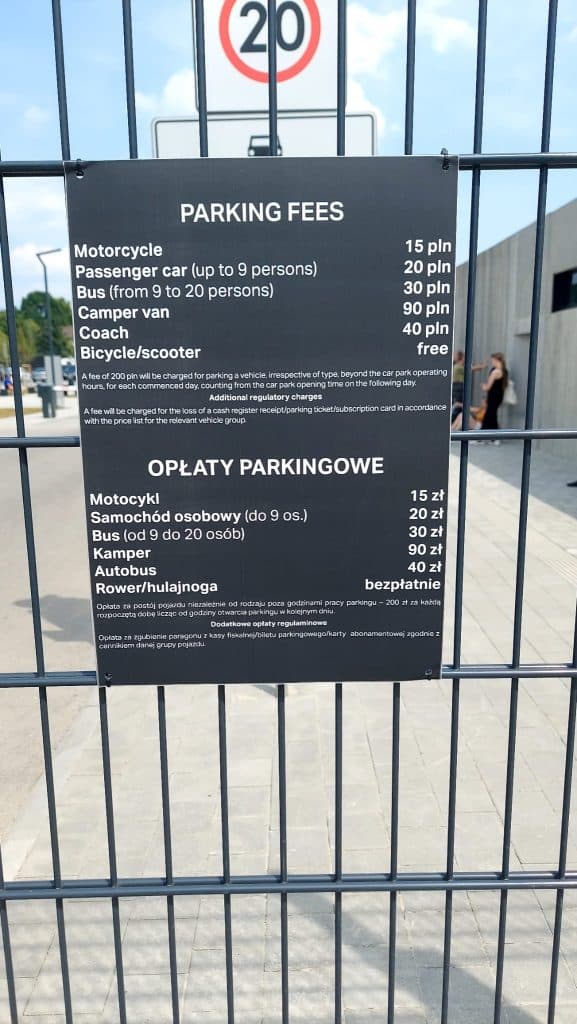 Security check and entry procedures
What to expect during the security check: Before entering the museum, all visitors must pass through a security check. This includes a bag check and a metal detector scan. Visitors cannot bring large bags or backpacks into the museum.
Accessibility accommodations: The museum is fully accessible to visitors with disabilities. There are wheelchair ramps and elevators available throughout the museum. Visitors with disabilities can also request a guided tour with a sign language interpreter.
Ticket Prices and information
The entrance fee for individual visitors:
Tour for individuals without a guide – Free (buy ticket needed)
General tour 3,5 h with a guide – Regular – 90 PLN
General tour 3,5 h with a guide – Reduced – 80 PLN
One-day study tour 6 h – Regular – 120 PLN
One-day study tour 6 h – Reduced – 100 PLN
Reduced tickets can buy students up to 26 with a valid student card, people over 75 years of age, and who have a disabled person's ID.
Tickets for the museum can be purchased online or at the entrance. It is recommended to purchase tickets in advance to avoid long lines. The museum is open every day except for January 1, December 25, and Easter Sunday.
Orientation and introduction to the tour
The tour of Auschwitz takes approximately 3.5 hours and includes a visit to both Auschwitz I and Auschwitz II-Birkenau. Visitors are guided through the museum and given a detailed history of the camp and its prisoners. The tour is conducted in multiple languages, including English, Polish, German, French, Italian, Spanish, Slovak, Czech, and Russian.
The museum is dedicated to preserving the memory of the victims of Auschwitz and educating visitors about the atrocities committed there. The exhibits include photographs, personal belongings of the prisoners, and information about the daily life of the prisoners. Visitors are encouraged to take their time and reflect on the exhibits.
Visitors are required to follow all tour guidelines and rules, including staying with the group, not touching any exhibits, and not taking photographs in certain areas. It is important to respect the solemnity of the museum and to remember the victims of Auschwitz with dignity and respect. Visitors are encouraged to ask questions and engage with their guide throughout the tour.
Auschwitz I
Auschwitz I, also known as Auschwitz-Birkenau, was a Nazi concentration and extermination camp located in Poland during World War II. The camp was established in 1940 and served as the administrative center for the entire Auschwitz complex, which included several other camps. Initially, it was used to imprison and torture Polish political prisoners, but it later became a major site for the extermination of Jews, Roma, and other groups targeted by the Nazi regime.
Birkenau (Auschwitz II)
Birkenau, also known as Auschwitz II, was one of the most notorious concentration camps during World War II. Established in 1941, the camp was located about three kilometers from the main camp, Auschwitz I. Initially, Birkenau was a labor camp for prisoners who were forced to work in nearby factories. However, in 1942, it became a death camp, where over one million people, mostly Jews, were killed in gas chambers and crematoriums.
Conclusion
In conclusion, visiting Auschwitz is a powerful and important way to honor the victims of the Holocaust and to ensure that their memory is preserved for future generations. However, it is not enough to simply visit and pay our respects. We must also take action to promote education and remembrance to prevent future atrocities. By doing so, we can create a more just and peaceful world where tolerance and respect for all people are the norm.
Additional Information
Resources for further reading and research
Overview of recommended books and documentaries
For those interested in further reading and research, there are many books and documentaries available on the history of Auschwitz and the Holocaust. Some recommended titles include "Night" by Elie Wiesel, "Man's Search for Meaning" by Viktor Frankl, and "The Diary of Anne Frank." Documentaries such as "Shoah" and "Night and Fog" also provide powerful insights into the history of the camps.
Links to reliable online resources
The Auschwitz-Birkenau Memorial and Museum official website (https://auschwitz.org/en/) provides detailed information on the history of the camps, as well as visitor information and educational resources. The United States Holocaust Memorial Museum website (https://www.ushmm.org/) also offers a wealth of information on the history of the Holocaust and its impact on the world.
Suggestions for further learning and research
For those interested in further learning and research, the International Holocaust Remembrance Alliance (https://www.holocaustremembrance.com/) is an intergovernmental organization dedicated to promoting Holocaust education and remembrance. The Anne Frank House (https://www.annefrank.org/en/) offers educational programs and resources on the life and legacy of Anne Frank.