International Cultural Center in Krakow is a national cultural institution that conducts research, hosts various educational activities, pursues publishing and organises exhibitions. International Cultural Center promotes an interdisciplinary approach, operates in many fields and combines different points of view in order to share knowledge of cultural heritage in a universal dimension.
Activities of the International Cultural Center are addressed to various audiences, both foreign and from Poland. A large part of ICC's projects is carried out in English, as it publishes many books and a quarterly "Herito" in Polish and English alike. International Cultural Center focuses mostly on the heritage of Central Europe.
Poland in international culture
International Cultural Center was inaugurated on May 29, 1991. A need to establish such institution was realised during first after the fall of the Iron Curtain OSCE debate. With the initiative of the first non-communist government after 1989 headed by Tadeusz Mazowiecki, Krakow was selected as the seat for future International Cultural Center. The choice was not accidental as Krakow has always been an important European metropolis and an excellent representative of Polish interests in the international arena.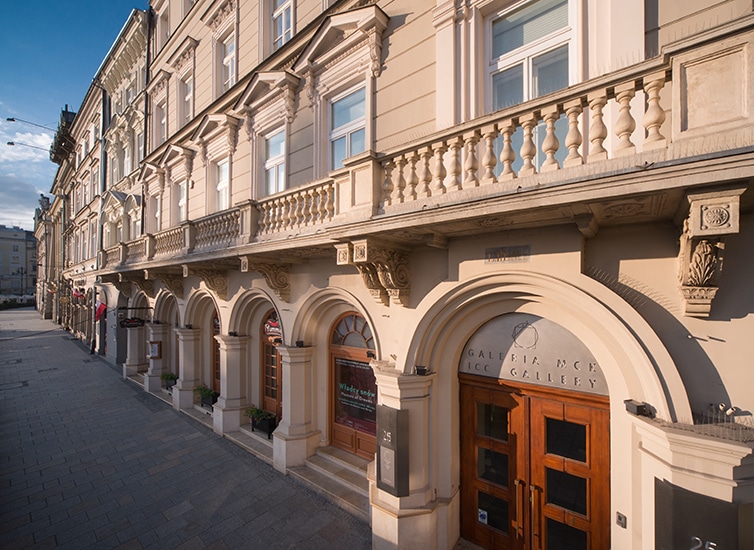 International Cultural Center has its headquarters in one of the beautiful townhouses on Krakow Main Square. This location makes the ICC accessible for anyone interested in learning about the place of Poland in international culture. It also metaphorically ensures implementation of the mission to support the cultural integration of Europe and protection of its cultural heritage.
One of the most visible of all ICC's activities is its Art Gallery, always housing an interesting exhibition. Exhibitions hosted by the International Cultural Center in Krakow put a strong emphasis on the art of Central Europe and are focused on important issues of contemporary culture and art. Headquarters of the ICC also houses a specialised scientific library that collects Polish and foreign literature in the field of cultural heritage. A rich educational programme for different age groups include lectures, workshops, conferences and debates.
Art Gallery in the International Cultural Center Krakow
Opening hours:
| | |
| --- | --- |
| Tuesday – Sunday | 10 a.m. – 6 p.m. |
* International Cultural Center Krakow is closed on public holidays in Poland.
Tickets:
| | |
| --- | --- |
| Regular | 12 PLN |
| Reduced | 7 PLN |
| Family ticket | 20 PLN |
* Happy hour: Tuesday and Wednesday between 10 a.m. and 11 a.m. – ticket for only 1 PLN
** On Sundays guided tour in English included in the ticket price (at 4 p.m.)