The hungarian capital, although highly attractive, is still relatively undiscovered by the rest of the world. Probably everybody has heard about it, but not many realize what it has to offer. If you are not sure where to start your Budapest journey, you're in the right place to find out!
Go back in time – The Parliament of Budapest
It's the building that you will see on the 90 % of postcards and photographs from Budapest. Your city trip can't be completed without visiting the famous Országház – the Parliament of Budapest, that is the highest building in the capital and the biggest one in the whole country. No wonder why it is so popular! One quick look is enough to be amazed with its splendor, magnitude and undescribed beauty. It is especially impressive when you look at it from the other side of the Danube River. Not to mention its outlook at night, when it turns into the most illuminated point in the city.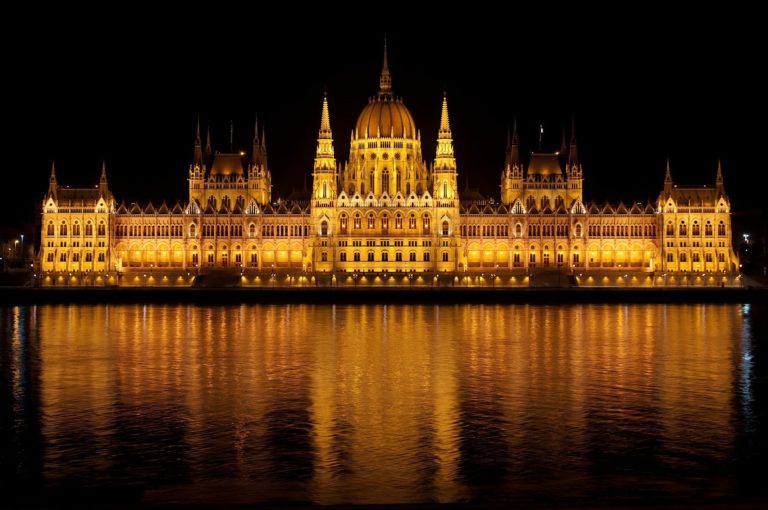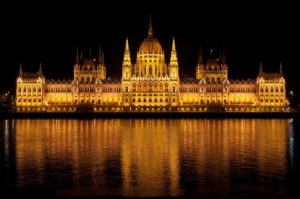 Although its view is spectacular in itself, it is definitely worth checking what's inside. Guided tours in numerous languages are available for all visitors of the Parliament of Budapest. They are a great chance to discover the breathtaking interior of this historical building, where you'll see the most significant chambers, stained glass windows, winding staircase, royal statues and the legendary Holy Crown. There is also a free museum, which will familiarize you with the history of Hungary and a lapidarium with various parts of the parliament's facades.
It's also nice to have a walk around the building, which is located on the picturesque Kossuth Square.
Opening hours
Monday – Sunday: 9.00 AM – 4.00 PM
Keep it mellow – Budapest Bathtubs
If you want to relax in the hot water and at the same time enjoy unforgettable historical surroundings, Budapest will definitely satisfy your needs. The city is famous for its bathtubs and thermal baths that for years have been offering its healing features – from ancient Roman times and Turkish rules to modern times.
In fact, Budapest is a one great SPA offering healing and thermal baths, beaches, saunas, solariums, massages and swimlanes – take your pick!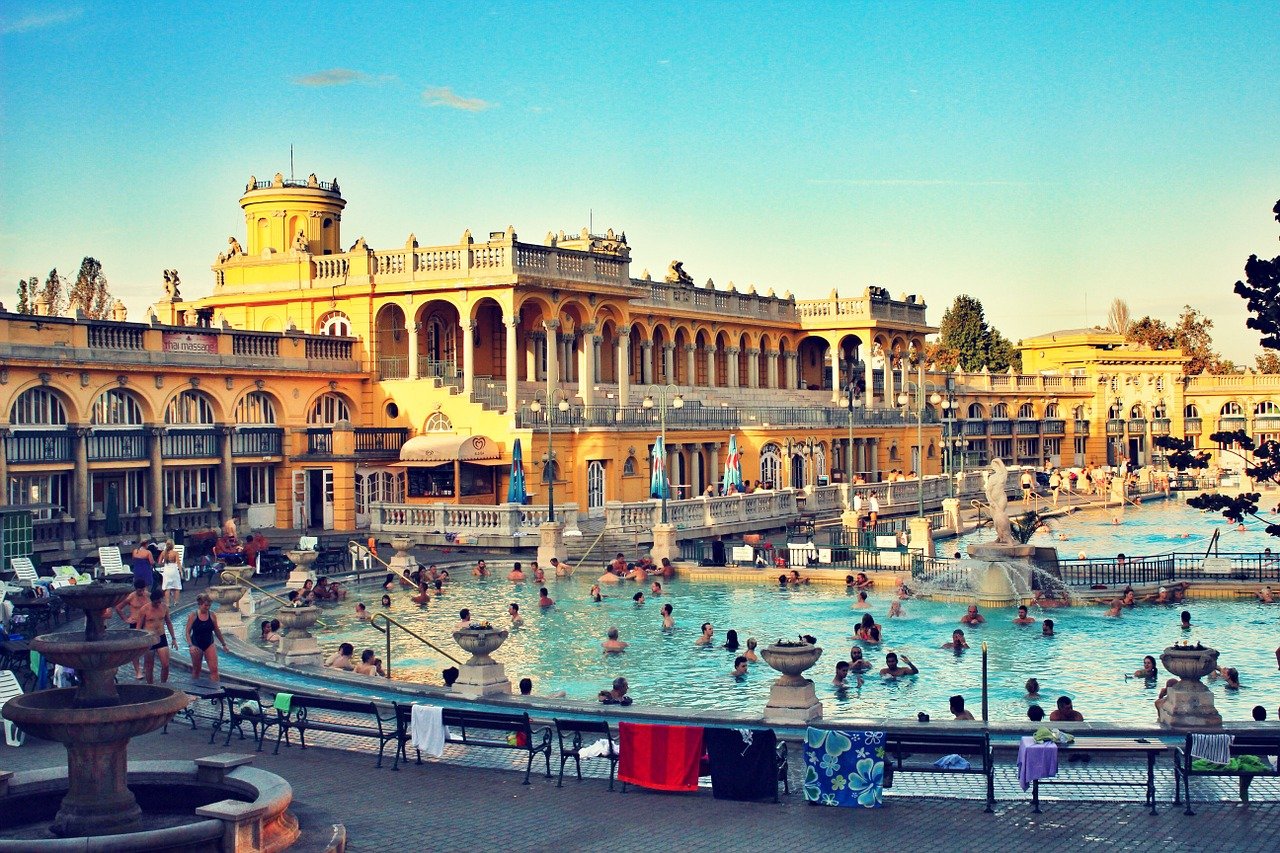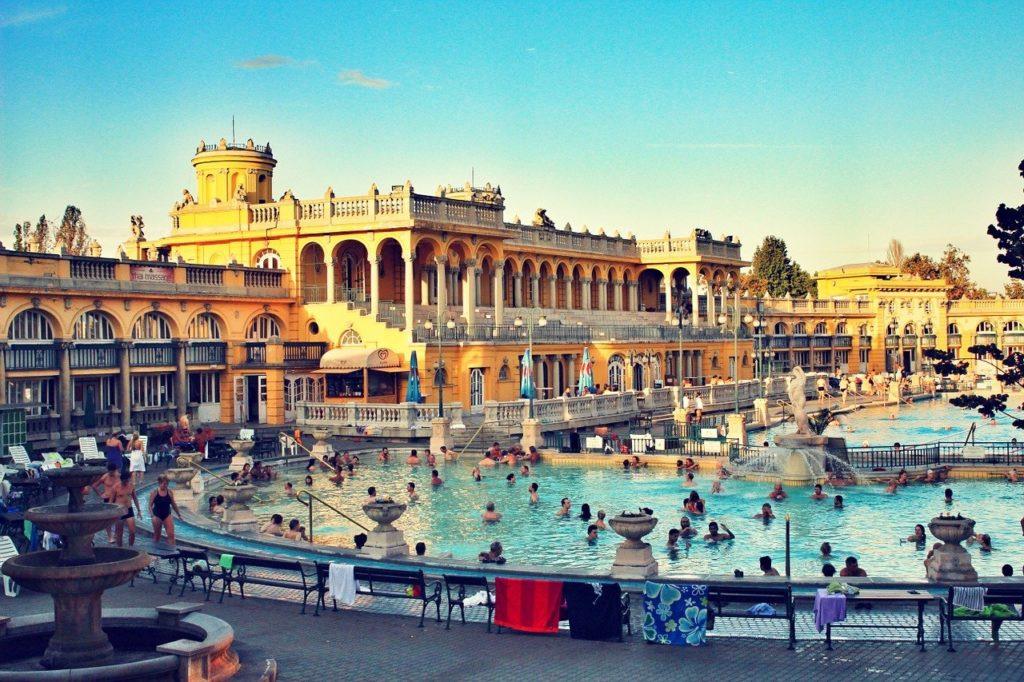 Although there are around 30 such places in Budapest, there is one particular bathtub, that should be no. 1 destination, especially if it's your first time in the city. It is called Gellért Baths, located on the Gellert Hill. It is an impressive baths and hotel complex, where you can use the best quality SPA services and enjoy visiting the place itself. It is a beautiful example of Art Nouveau architecture with an impressive glass roof, a multistorey colonnade and the statue of Venus. What's more you can discover its amazing history, which dates back as far as to 1912!
Climb the history – Castle Hill
The Castle Hill is historically the most important area of Budapest. It is on the UNESCO list of World Heritage Sites as a whole, and is definitely something you should see at least once in your life. You can reach it by foot or by the historical railway.
The main attraction of the Hill is, of course, the Buda Castle. Although it had been destroyed during the war, it was renovated, and has become an amazing space for the city's fascinating history and cultural heritage. Visitors of the Buda Castle can see two superb museums – The Budapest History Museum and the Hungarian National Gallery. It's also worth climbing the last floor of the Castle to reach the highest point at the whole Castle Hill. There are numerous tours organized in the Castle including Budget regular, budget or night walking tours, segway tours, bus tours and cruises.
The Castle's Courtyard offers scenic views and cosy cafes where you can have a sip of the best quality coffee, delicious hot wine or most popular hungarian pastries. It's also recommended to visit the Royal Castle Labyrinth, which is attractive not only for kids. It offers an adventurous walk through underground caves and a lesson of the dark history of Budapest. 
While visiting the Castle Hill you can't miss another crucial building – the Fisherman's Bastion. Many say that you can see the best possible view of Budapest panorama while standing on its terraces or one of its 7 towers.
Another important attraction in the district is the Matthias Church – the place of royal coronations. Its history dates back to the XVIII century and it still features several original elements of its initial construction, including a portal and one tower.
Opening hours
National Gallery: Tue-Sun 10:00 AM – 6:00 PM
Budapest History Museum: Tuesday – Sunday 10:00 AM – 6:00 PM (1 March – 31 October ),
Tuesday – Sunday 10:00 AM – 4:00 PM (November 1 – February 29)
Go with the flow – Danube River
Budapest is split in parts by the second biggest river in Europe – Danube. If you already visited both parts (Buda and Pest), don't forget to enjoy the river itself as it has much to offer!
Let's start from discovering all fancy bridges stretching over the Danube. You will find seven bridges in Budapest and it's really hard to decide which is the most splendid one. Make sure that you won't miss crossing those most significant for the city: the Széchenyi Chain Bridge, the Margaret Bridge, the Liberty Bridge and the Elisabeth Bridge.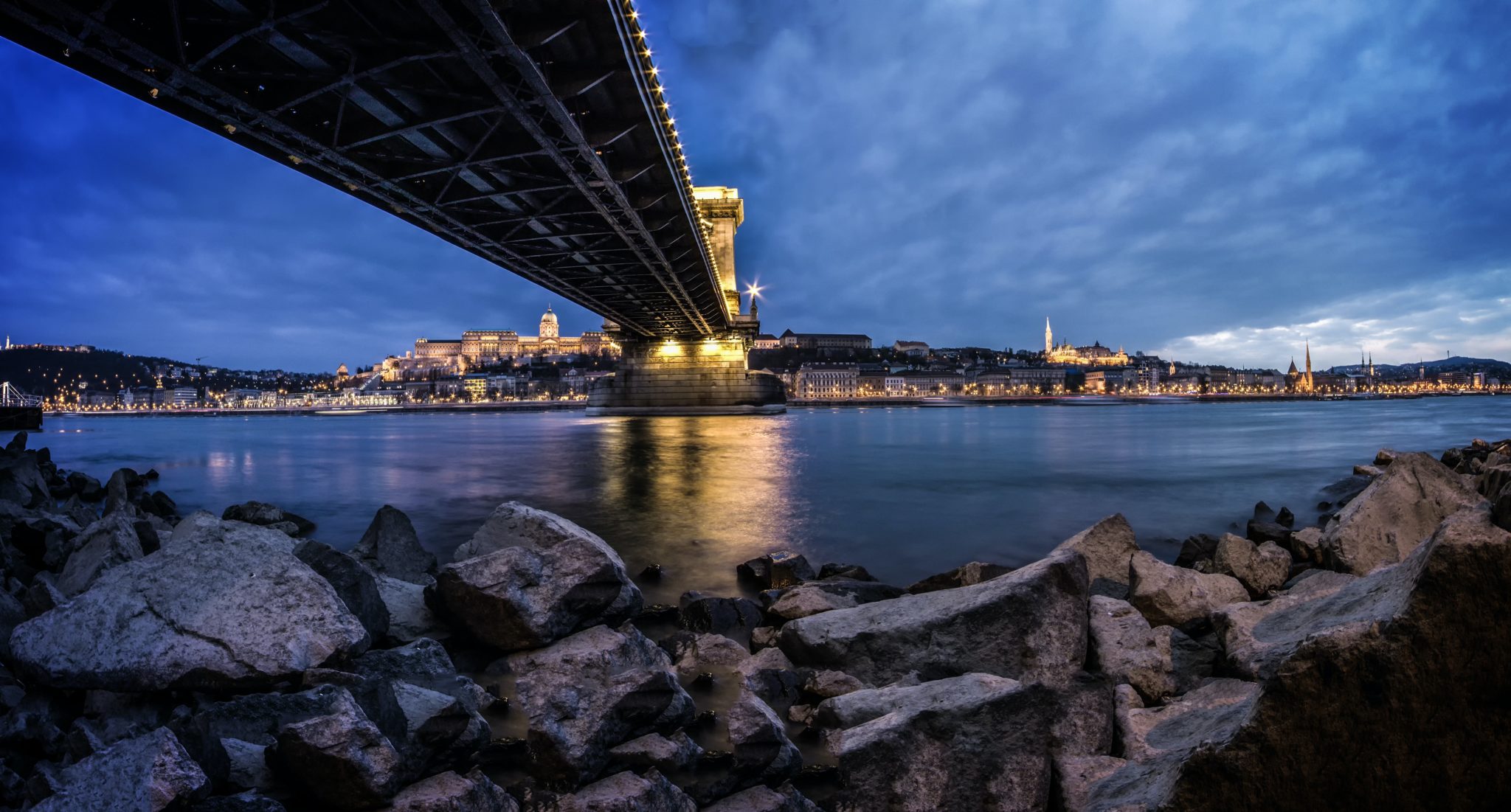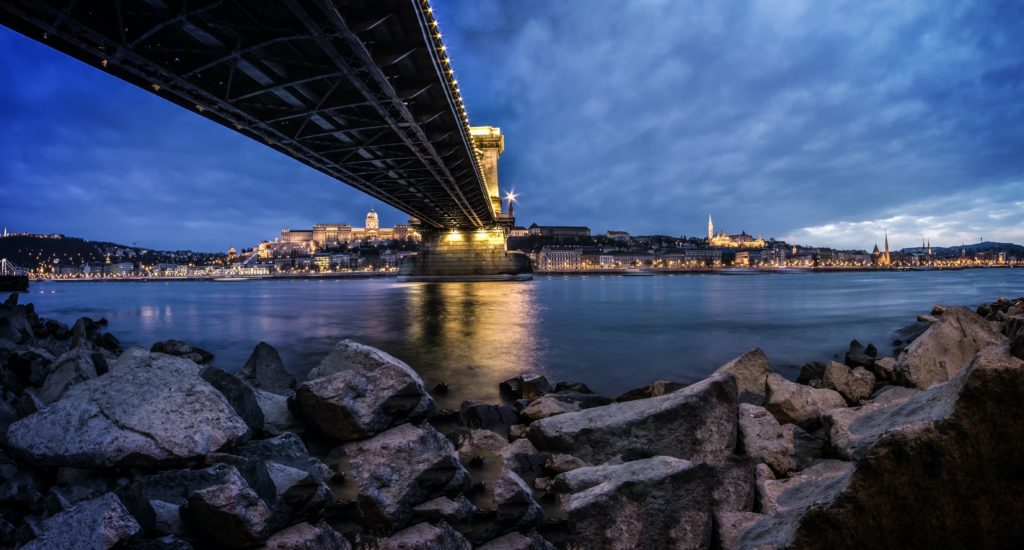 Now it's time for a cruise, that will show you Budapest from a slightly different perspective. There are plenty of cruises on the Danube river with a variety of attractions. Some people prefer to do a sightseeing cruise during the day and learn the city's history with an audioguide, while admiring Budapest's best architecture. Others will say that there is nothing better in the world than a night-time cruise with live music and a glass of wine while the city looks absolutely gorgeous, immersed in its incredible lightning.
Catch your breath – Városliget
Do you need some fresh air? Then visit the Városliget – a magnificent city park that is also known as the Carbon Sink of Budapest. It is famous mainly for its Vajdahunyad Castle, which is regarded as one of the most interesting open museums in the world. It features an amazing variety of architectural styles, including several buildings from different eras built in 1896, when the millenium celebrations of Hungary took place. The Castle complex is one of the favourite places for walks and relaxation in the bosom of nature. Everybody will find something for themselves here: history lovers will enjoy the castle itself, artistic souls will appreciate the museum of Fine Arts and the Art Palace, gourmands will satisfy their appetites in the Gundel Restaurant while everybody can spend a wonderful afternoon in the Municipal Zoological and Botanical Garden (one of the oldest parks in the world) or chill in Baths and Swimming Pool.
Opening hours
Vajdahunyad Castle: Tuesday – Sunday: 10:00 AM – 5:00 PM
Courtyard: Monday – Sunday: 12:00 AM to 12:00 PM
Indulge yourself – New York Cafe Palace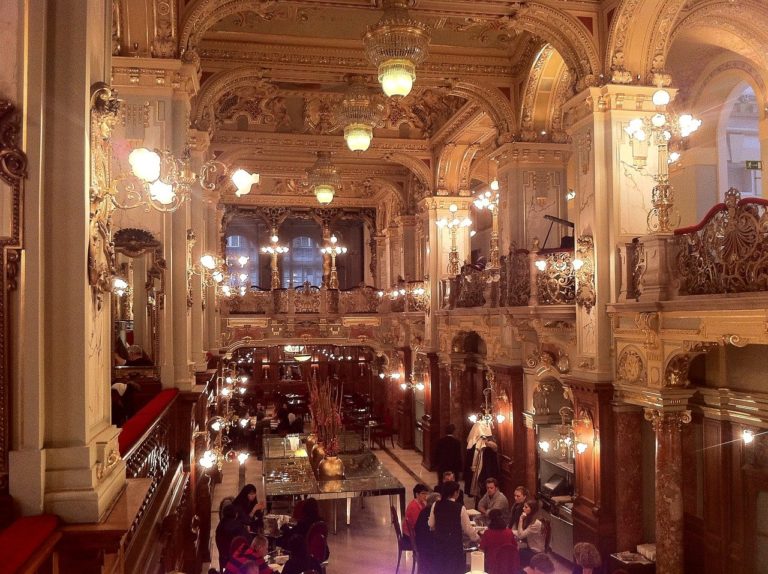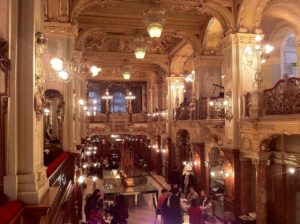 Last, but not least is the the most beautiful cafe in the world. Extremely posh but not cheesy, recognised around the world and definitely worth its price. A real paradise for those who appreciate good quality food as well as impeccable service and unique interiors.
New York Kavehaz Cafe was opened in 1894 and from the beginning it was the hub of Hungarian upper crust, hosting world-famous characters from around the world. It has not lost its splendor and best quality for over 120 years and today we can enjoy its inimitable fairytale-like atmosphere while having a delicious meal.
As one may expect, it's not the cheapest place to eat in Budapest, but still, worth its price. If you like gathering unforgettable culinary experience from your trips, book a table at the New York Cafe!
To sum up – it's not difficult to enjoy your visit in Budapest. In fact, it's hard not to enjoy it, as you can find attractive places at every corner. Best advice is to try to have a little bite of everything that's important in the city – its history, nature, culture, tradition and taste – and you won't be disappointed for sure. Have a nice stay!