In a city so steeped with artistic spirit, it is hardly surprising that many interesting art galleries can be found in Krakow. With such great schools as Jagiellonian University and Academy of Fine Arts, Krakow has produced many prolific artists and art critics. The artistic community enjoys a wide range of art galleries in Krakow that focus mostly on contemporary art.
Non-commercial galleries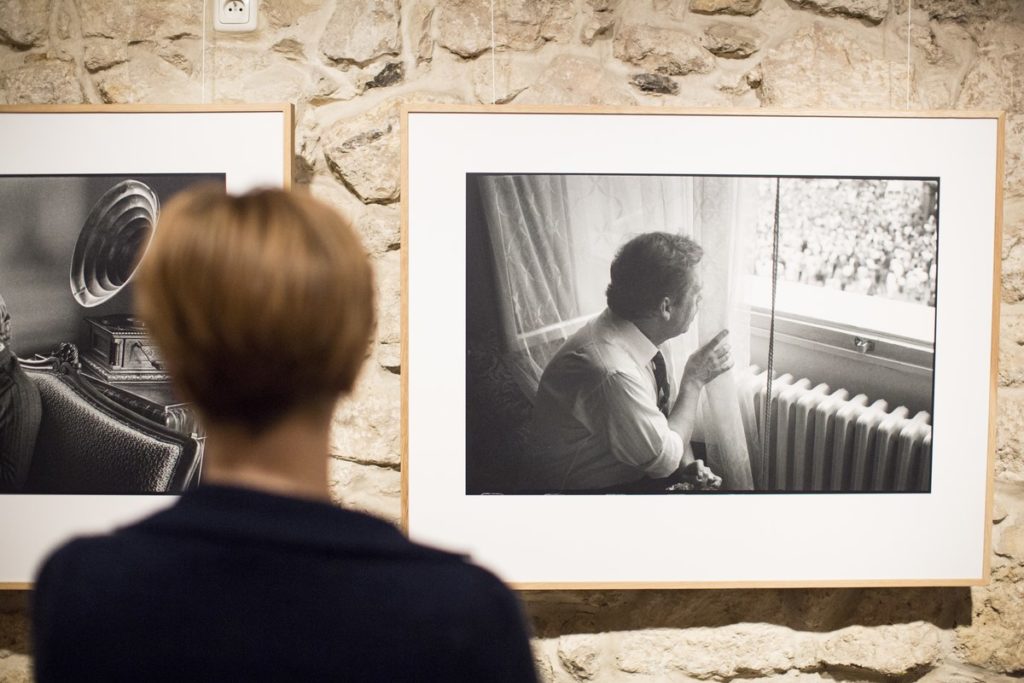 International Cultural Center houses several temporary exhibitions a year. Focusing on important issues of contemporary culture and art, ICC puts emphasis on cultural heritage of Central Europe and place of Poland and Polish art in the international arena. It aims to initiate public debate and create a place for interdisciplinary approach to culture.
Always bustling with visitors, Bunkier Sztuki is another noteworthy art gallery. With excellent location near Planty and Szczepanski Square, this modern facility houses a cafe and city's best contemporary art gallery. Always though-provoking exhibitions include the annual World Press Photo.
One of the largest private galleries in Poland, Starmach Gallery enjoys international recognition. Established in 1989, it gained reputation as one of the best Polish art galleries, presenting cutting-edge contemporary Polish art. During over twenty years, it housed several dozen exhibitions of such renowned artists us Tadeusz Kantor, Jerzy Nowosielski, Magdalena Abakanowicz. Starmach Gallery is located in restored and adapted for gallery purposes former Zucker Synagogue in Podgorze district.
Opened in 2016, Beksinski Gallery housed in Nowa Huta Culture Centre, presents works of Zdzislaw Beksinski, a controversial artists whose works are widely recognised in Poland and abroad alike. Exhibition comprises the most outstanding works of art from the so-called "fantastic period" of Beksinski's activity in the 1960s and 1970s.
Commercial art galleries in Krakow
Vast majority of private art galleries in Krakow collaborates with several generations of artists with a lot of attention paid to young artists, whose works can be purchased on the spot.
Artemis Gallery presents contemporary Polish art in the fields of painting, graphics, sculpture and photography. Gallery organises exhibitions of renowned artists, professors of the Academy of Fine Arts in Krakow, as well as promotes the youngest generations of Krakow artistic community.
One of the longest-running and most prestigious private galleries in Poland, Gologorski Gallery collaborates with leading artists from Krakow. Owned by a sculptor himself, the gallery relies heavily on sculpture, often avant-garde, but also presents portraiture, jewellery and design.
Zderzak Gallery was founded in 1985 as a private, independent institution. It operated beyond censorship and in opposition to contemporary art of state and church. The objective was to present the most interesting phenomena in the young Polish art. One of the most important spheres of gallery's activity is discovering and promoting young artist, often still students. The guiding idea of the gallery's owner was to collide people, attitudes and views.
NOVA Gallery is oriented on works of Polish artists of the younger generation with already somewhat established position. The gallery supports experimental art projects and interdisciplinary expression. It is engaged in conceptual art, gender issues and the arts associated with contemporary reality and society.
Szalom Gallery is dedicated to Jewish heritage. Opened in 1994 in the historic district of Kazimierz as a way to preserve but also to bring back Jewish culture left neglected for many years. The gallery cooperates with many institutions, takes part in the Jewish Culture Festival and collaborates with many artists from Poland and Israel.
Art gifts shops and boutiques
LueLue Gallery is where passionate for photography and design will find beautiful souvenirs and vintage keepsakes. It is a charming little gallery and shop offering mostly old photographs, paintings, postcards and posters, as well as daily necessities with cheeky character.
Galeria Plakatu (Poster Gallery) displays and sells exceptional examples of Polish poster art. Visit at the Krakow Poster Gallery is an interesting journey back to beginnings of graphic art. The oldest exhibits include posters from the times of World War II. Polish poster art from the 1950s and 1960s was considered the finest in the world. Although often a vehicle of communist propaganda, it still impresses today. Krakow Poster Gallery is also home for alternative versions of well-known movie posters.

Andrzej Mleczko Gallery was opened 1982 by the artist, Andrzej Mleczko, himself to show his anti-establishment work. Andrzej Mleczko is a Polish illustrator, mostly known for his satirical activities. Although his works are mostly in Polish, they are often universal. The gallery displays artists' recent work as well as all time favourites as original prints, or printed on mugs, shirts, posters.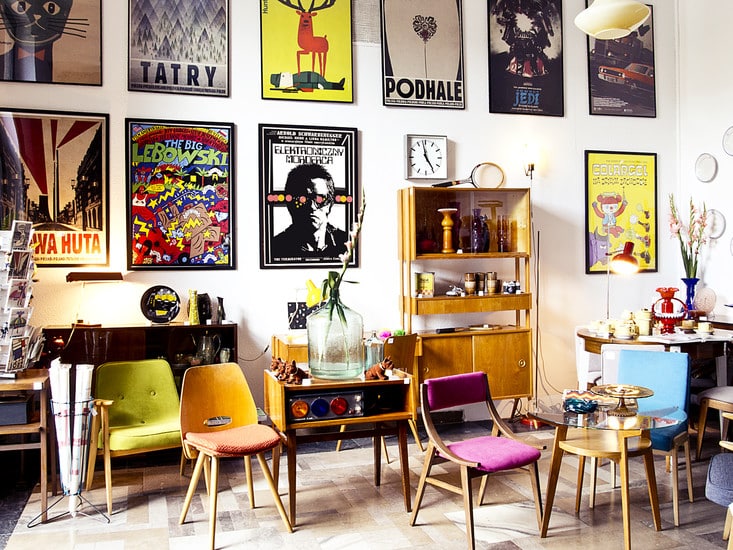 Szpeje, which may be translated to lumber, is a small gallery and shop located in Nowa Huta's PRL Museum. Matching its surroundings, it specialises in vintage Polish design from the communist era, that now enjoys a comeback. Retro furniture, posters and toys that for many connote with childhood memories, can all be found in this colourful little shop.